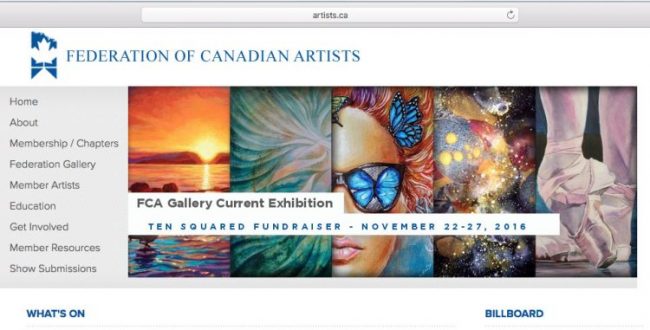 I'm happy to have one of my paintings (Heron Facing Light) on display at TEN SQUARED Annual Fundraising and Art Exhibition at The Federation of Canadian Artists Gallery in Vancouver, BC, Canada.
Anyone that knows me knows that I don't brag much about anything so I'll take this opportunity to point out that the painting I entered into this show is currently on The Federation of Canadian Artists website homepage alongside other paintings in the show as well. Though it may be no big deal to most and it hasn't sold (yet, hopefully), this means the world to me just to have my art recognized and been shown alongside other amazing artists AND especially within an Arts Organization that I really love, respect, admire, appreciate and whom have helped me advance my art career. This is NOT to say that I am making a living from my art yet, because I'm not and sometimes I have had the thought to stop pursuing my painting career. However, these instances are the ones that help me to keep going, keep painting, keep creating and keep pushing myself to never, ever, EVER turn my back on what makes me tick. Ever.
Partial proceeds from this show go to support local artists and The Federation of Canadian Artists. All paintings are 10in x 10in and only $150. (If you're interested in mine or any other of my works, commissions or portraits, contact me www.jackiebourne.com or Facebook @ JackieBourneArt (The Art of Jackie Bourne) or instagram@jackiebourneart
Come down to The Federation of Canadian Artists Gallery at Granville Island, Vancouver, BC –
1241 Cartwright Street. Show runs until November 27th, open daily 10am-4pm.
HELP SUPPORT LOCAL VISUAL ARTISTS!