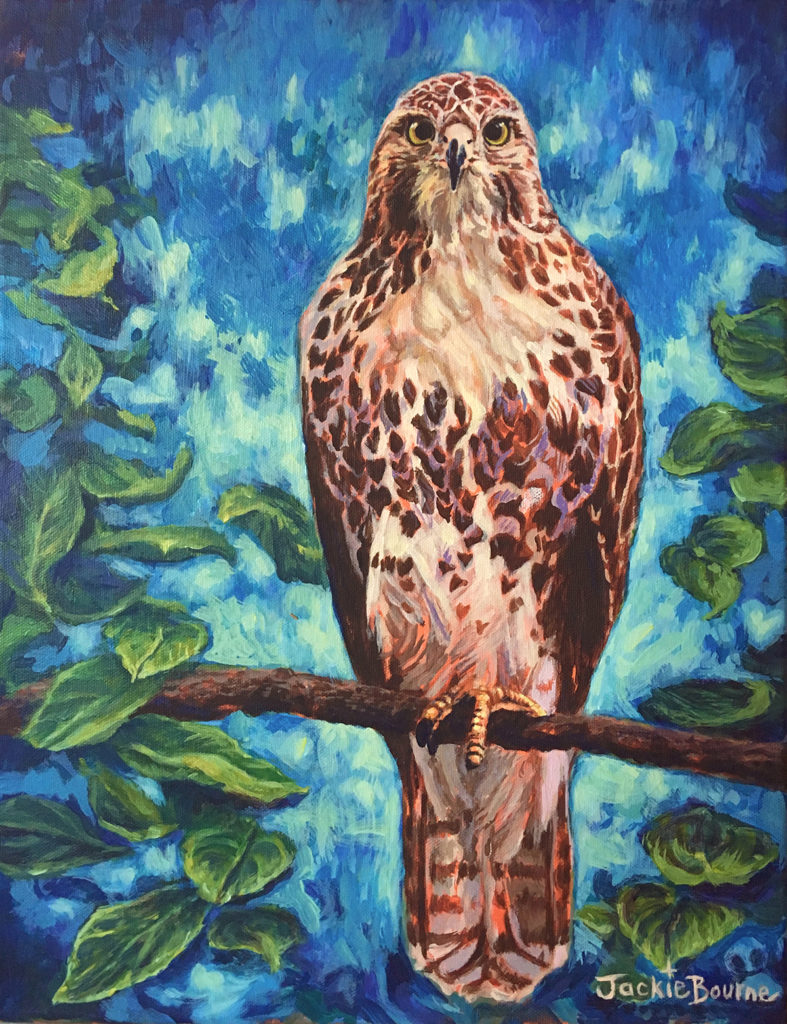 I'm still so grateful to have looked out my bedroom window at the moment that I did to see this beautiful Red-Tailed Hawk staring back at me from about 10 or 15 feet away. Perched on a branch, it just sat there, not moving for at least 3 minutes. On a day when my confidence wasn't too high, feeling a bit defeated, I couldn't have asked for or dreamed of a more transformative or eye opening message or moment.
Many say that a hawk is often a messenger from Angels, Devas and the Divine. He signals a time in your life when you need to focus on what's ahead and prepare for a leadership role. Your global vision is a potent helpmate in this. Just as the Hawk, you are ready to fly higher than ever before.
Almost two years ago, I became a Wellness Advocate for doTERRA Essential Oils. Their essential oils and products have helped me so substantially that I was drawn to and overcome with a undeniable pull in my heart to help others lead happy and healthy lives too. I'm an artist at heart and I've never viewed myself as a 'leader' and rather more of a playful, outgoing, creative person – and I still am! I cherish my solitude and reflective time as all artists do and need, to create. But I've come to know that everyone has their own way of leading and traits like these are not separate from 'leadership', they are part of a leadership style of which there are many and no one style is better than another. They are ALL good enough. Nobody is one thing. We ARE dynamic. Leading doesn't look one way or like what most of us think – and thank god or I wouldn't have come to this conclusion. 😉 It's not rocket science to help people. Helping people isn't hard. For me it's hard NOT to, because I know that there exists, safe and effective natural solutions to people's health issues. THIS is what pulled at my heart and of course still does. Great things aren't meant to be kept secret, they're meant to be shared – that's why we're here isn't it? It's part of our growth on this planet.
I still wonder if doTERRA's 'Elevation' blend in part, brought this guy to my window that day… That would sound crazy wouldn't it? lol. I think sometimes moments are just for us to know and help us to keep going.
DoTERRA Essential Oils diffused while painting this piece: 'Bergamot, Wild Orange, Peppermint, Spearmint and Cedarwood. www.mydoterra.com/jackiebourne
DoTERRA Essential Oils diffused while creating the preliminary sketch: 'Elevation' – a blend of Lavandin Flower, Tangerine Peel, Lavender Flower/Leaf, Amyris Bark, Clary Sage Flower/Leaf, Hawaiian Sandalwood Wood, Ylang Ylang Flower, Ho Wood Leaf, Osmanthus Flower, Lemon Myrtle Leaf, and Melissa Flower/Leaf essential oils.