Grey Whale and Standing One – New Painting!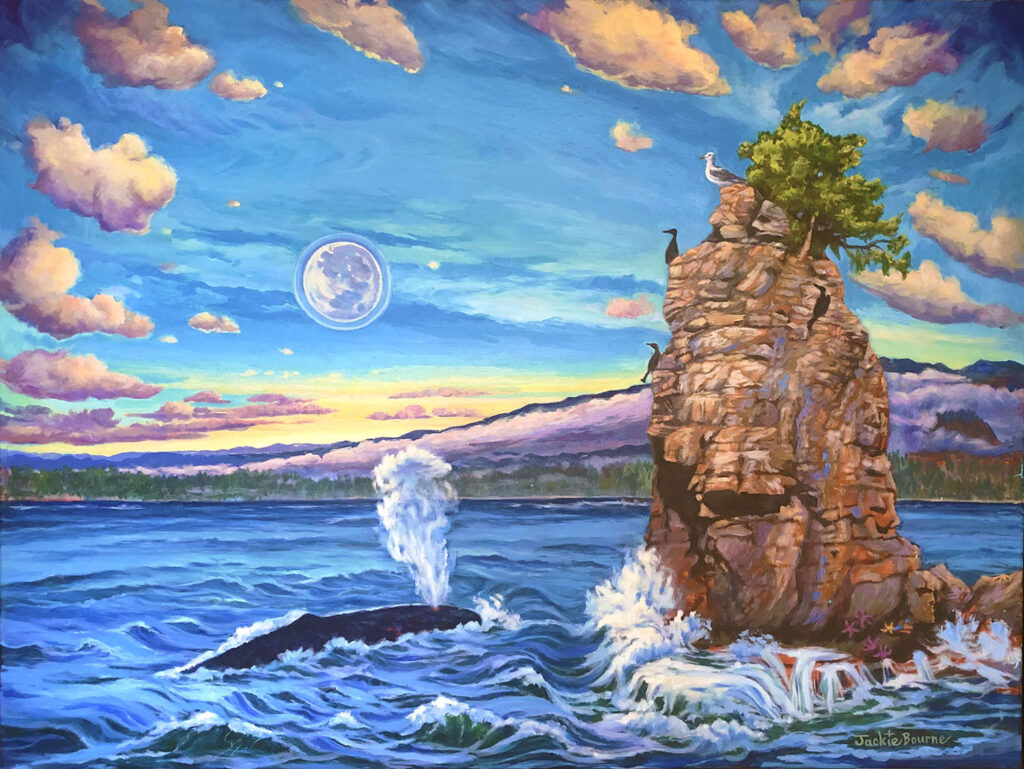 Inspiration:
For years, I've ridden my bike around Stanley Park in Vancouver, BC and passed by this beautiful ancient landmark recently renamed Slhx̱í7lsh (Squamish language) by the Tsleil-Waututh, Musqueam and Squamish First Nations, meaning 'Standing Person' or 'Standing One'. On this morning, to see a grey whale up close for the first time in the wild was amazing in itself but then for it to come right up close to this awe inspiring ancient rock which I've passed by and admired my whole life, was an incredibly enlightening experience for me. There was also a supermoon that day which provides energetic healing and helps to illuminate the subconscious.
Symbolism:
Whales symbolize communication, power, hope, inner strength, ancient knowledge and wisdom, revealing unconscious emotions and bringing them to light .
Ocean is a symbol of life, creativity, power, strength, life, mystery, hope, truth, love and can unite the conscious and subconscious.
The sacred rock in Stanley Park, named Slhx̱í7lsh in Squamish language, means 'Standing One'. It comes from a legend about 'a man who was transformed into the rock by supernatural beings, teaching people on earth how to be good'.
A Supermoon provides energetic healing and helps to illuminate the subconscious, releasing negative thoughts and emotions.
Spiritual Significance:
The whale itself is a symbol of spiritual transformation and awakening the inner depths of our soul. It connects us to our ancestors, ancient wisdom and the huge force within us available where our strength, healing and wisdom can be drawn from.
Though I may not have been consciously aware at the time of this magical experience, it and the painting itself would be the beginning of a personal transformative journey and deep awakening within me to the abundance of love and higher frequencies on our planet.
See more of my artwork here: www.jackiebourne.com/paintings
doTERRA Essential Oils diffused while painting this piece: (others used internally and topically)
Over the course of four years which it took to complete this painting, MANY doTERRA essential oils were used and I honestly don't remember all of them but ones I almost always diffuse are
Wild Orange – (Oil of Abundance) Uplifting and healthy immune response, purifying
Peppermint – (Oil of a buoyant heart) Neck and head tension, respiratory, digestive
Cedarwood – (Oil of Community) Calming, sleep, tension, respiratory
My personal 'Ocean' blend, to achieve the smell of the Ocean on the Westcoast: Ylang Ylang, Rosemary, Lemon and Lavender.
Other doTERRA essential oils used topically and internally including the doTERRA Lifelong Vitality Trio supplements – always 😉
See more about doTERRA Essential Oils here: www.jackiebourne.com/doterra
See more of my artwork here: www.jackiebourne.com/paintings